Regular price
Sale price
¥7,500 JPY
Unit price
per
Sale
Sold out
お届け指定について

食べごろのものだけを厳選しているため、収穫量が日によって異なり、日にち指定ができません。

おいしいものだけをお届けするためにご了承ください。

ご注文頂きました順に、順次発送(原則7日以内)とさせていただきます。
Delicious "happiness" is delivered.
This item becomes a reservation item. Sales start is scheduled for December.
I put it in a special gift box and receive it.
It is suitable for the gift to the important person to the reward for oneself to the important person who is certified in the special cultivation.
Open, smile, eat and smile.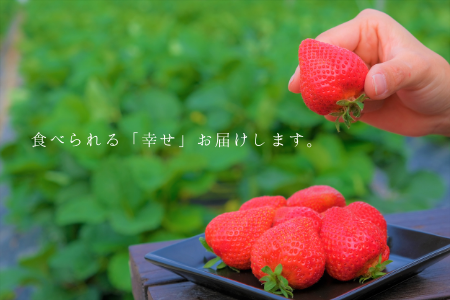 Gift box.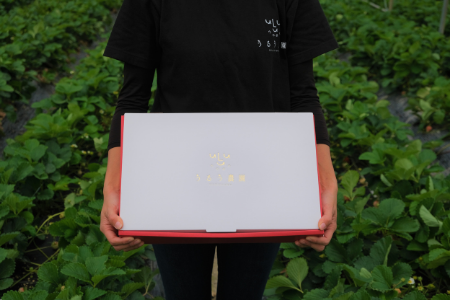 The special container for strawberry is used for packing.
Shaking from the vibration of strawberry is hard to hurt.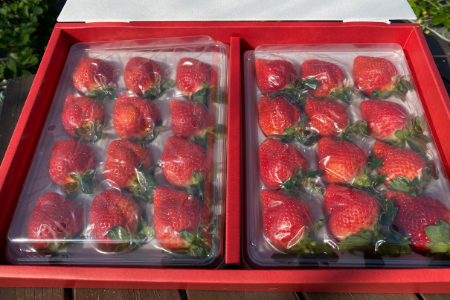 * the image is 800 grams.
Because it is direct delivery of the farm. Fresh delivery!
Shipping only on that day.
The staff is carefully selected to harvest only the ones at the time of eating.
Strawberries harvested at the most delicious timing are shipped out of the day.
It is delivered directly to the farmhouse, so you can deliver the freshness.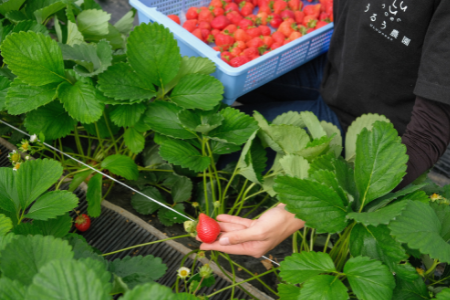 I grow up like my child.
When I opened the box, I imagined a face of joy when I had a bite
It grows with the heart, and is harvested and packing carefully.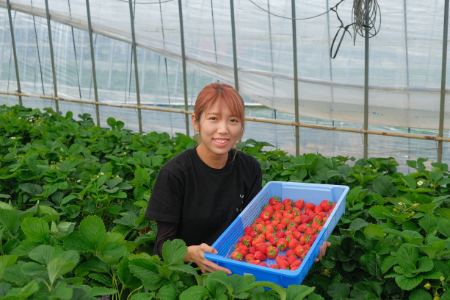 * the amount of food is different depending on the day because it is carefully selected
No date specified.
Please understand to deliver only delicious items.
We will order the order of shipment order within 7 days.
Difference of grades
| Grade | Size | Features |
| --- | --- | --- |
| Ex | Otome | It has a premium feeling and is suitable for gift giving. |
| DX | Nakadama | It has a relatively simple shape and can enjoy "amo". |
Such a voice arrives!
Your voice
I was very glad to send it to my friend.

It was delicious, and the family and the body and the body were able to supply vitamins, so I got in touch.

Thank you for the delicious.

I sent repeat requests from grandchildren.

It is said that he had fallen down with his brother while he was five brothers.

Fresh and sweet. I was pleased with "strawberry best".

The sweetness and sweetness spread in the mouth, and it was delicious and delicious.

I was impressed that strawberry was so delicious!

Thank you!
Annoyance of growl farm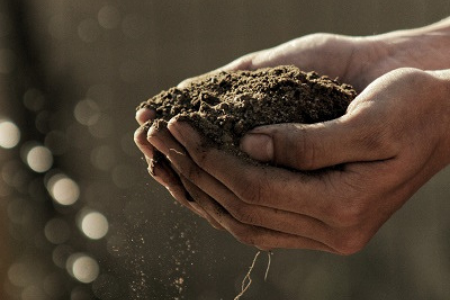 Because I want important people to eat...
Strawberries' strawberries use organic fertilizers.It is cultivated with reduced agricultural chemicals.
In addition, strawberry farmers in Fukuoka Prefecture
It is certified as a special cultivation in Fukuoka Prefecture that has been certified only under 1%.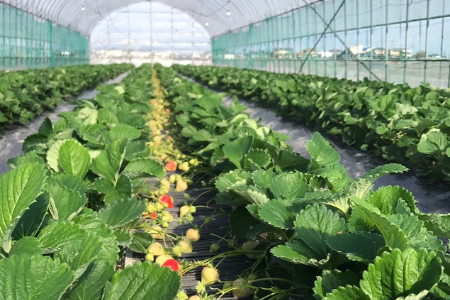 The traditional soil cultivation is different in taste!
In a growl farm, it is not a high altitude cultivation (a method of making it with a height shelf of the waist) often seen in the strawberry plantation.
It adopts soil cultivation that planted the stock of strawberries on old soil.
This method takes a lot of time for cultivation, but it has a lot of soil capacity
The fertilizer is well sucked and delicious strawberry is made.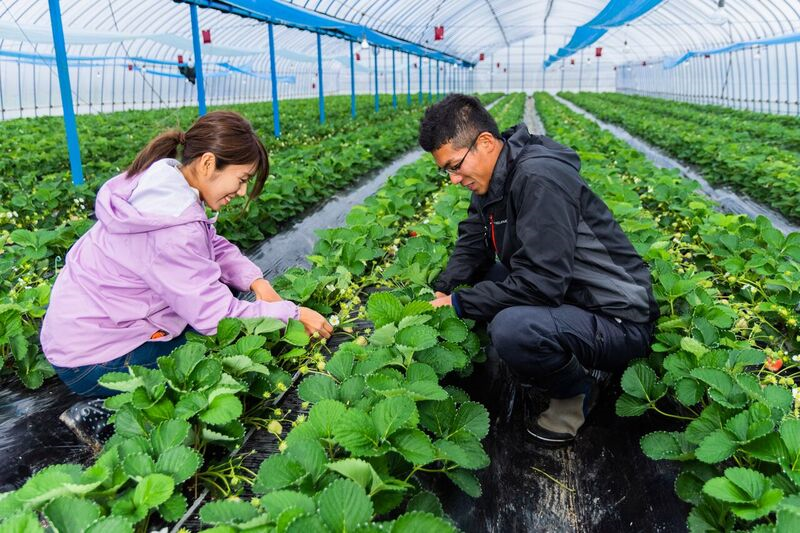 To be able to feel delicious and happy.
The strawberry is carefully cultivated from the seedling development in summer.
About shipping

| Delivery area | Carriage |
| --- | --- |
| Hokkaido | 1250 yen |
| Tohoku | 15550 yen |
| Koshinetsu | 12350 yen |
| Hokuriku | 12350 yen |
| Kanto | 12350 yen |
| Chubu | 12350 yen |
| Kansai | 100 yen |
| China | 100 yen |
| Shikoku | 100 yen |
| Kyushu | 950 yen |
| Okinawa | 1250 yen |
* there is a change in delivery charge by size and weight.
* if you need additional relays such as an isolated island, we will pay you by email.
* you can't ship to the cool flights area.
* delivery to foreign countries is not supported.
View full details
迅速なご対応ありがとうございました
お取引先にお歳暮としてお送りしたところ、大変喜んでいただきました
うるう農園のこだわり
美味しさへのこだわり

昔ながらの土耕栽培は味がちがう!

うるう農園では、いちご農園でよく見かける高設栽培(腰の高さの棚で作る方法)ではなく、昔ながらの土にいちごの株を植えた土耕栽培を採用しています。この方法は、栽培の手間がかかりますが、土の容量が多いため、肥料をよく吸い、美味しいいちごができあがります。

安心・安全へのこだわり

 大切な人に食べてほしいから・・・

うるう農園のいちごは、【有機質肥料】をふんだんに使い、減農薬で栽培されています。また、あまおうの産地福岡県のいちご農家でも、わずか1%未満にしか認証されていない福岡県【特別栽培】に認定されています。 

鮮度へのこだわり

農園直送!採れたてをお届け!

出荷するのはその日に採れたものだけ。スタッフが厳選して食べころのものだけを収穫します。一番美味しいタイミングで収穫されたいちごは、収穫したその日のうちに出荷。農家直送なので、鮮度をキープしたままお届けできます。
美味しい「幸せ」お届けします。
「美味しさ・嬉しさ」を感じて頂けるように、夏場の苗づくりから丁寧に苺を育てています。
箱を開けた時の感動、一口ほおばった時の喜ぶ顔を想像しながら、心をこめて育て、大切に収穫・梱包しています。
等級のちがいについて
エクセレント(EX)等級

最上級グレード。全収穫量のうちでもわずか数%。極上品のみを選りすぐった特別な「あまおう」は大切な方への贈り物にぴったりです。

・特選あまおう400g

・特選あまおう800g

エクセレントサイズ一覧

デラックス(DX)等級

大きさ十分、形・色づきも揃っているDXは、ご贈答にも最適。百貨店などでも販売されるクラスのいちごです。

・あまおうDX2パック

・あまおうDX4パック

・あまおう大福セット

デラックス商品一覧

M~Gサイズ

サイズ色々。お子様が一口で食べられる小玉、扇形の特大サイズなど。ご家庭用にぴったりのお得なサイズです。

・サイズいろいろあまおう。

M~G商品一覧
ギフト包装対応します。
お祝いや記念日のプレゼントに、大切なお友達やお世話になった方へ。
熨斗・一筆箋(メッセージ)をご用意しています。
こんな声届いてます。
鮮度も味も素晴らしいです。

スーパーで買うのも良いけれど、生産者さん直送は全てのクオリティが違うなと再確認いたしました。

孫達からのリクエストでリピートで送りました。

兄弟5人なのであっという間にペロリとたべてしまったそうです。

新鮮で甘い。"イチゴ最高"と喜んでいました。

お口のなかで、シュワーと甘酸っぱさがひろがり、鮮烈な美味しさでした!

いちごがこんなに美味しいなんて、感動しました!

ありがとうございます!
おすすめ商品
Regular price

Sale price

¥3,780 JPY

Unit price

per

Regular price

Sale price

¥3,200 JPY

Unit price

per

Regular price

Sale price

¥6,200 JPY

Unit price

per

Regular price

Sale price

¥4,000 JPY

Unit price

per

Regular price

Sale price

¥7,500 JPY

Unit price

per